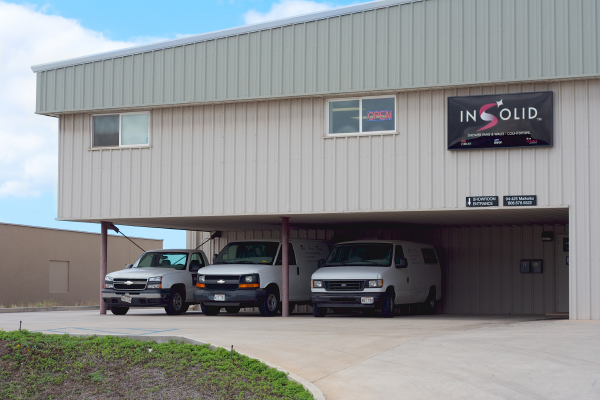 Insolid® is Hawaii's leader in design innovation, engineering and fabrication of solid surface showers pans and wall systems, tub decks and surrounds, and countertops. We also specialize in surfaces for health care and commercial applications, in addition to restaurants and military. Our company has been delivering an exceptional experience with our products, on-time service, and professionalism since 1999.
Insolid® dedicates its attention to the fabrication of Du-Pont Corian, Samsung Staron and LG Hi-Macs as opposed to other surfaces such as granite, stone, tile and cultured marble. We have chosen to focus on these brands because we have found, over our years of experience, that the monolithical (seamless) nature of this product, in addition to its solid structure, non-porousness and surface renewability make it a far superior surfacing product. Equipping our clients with a much easier to care for, easy to sterilize, lifetime renewable interior product. Products which never need to be sealed, are completely refinishable, wont stain, and can be fabricated in a seamless manner. These attributes completely eliminate the problems that granite, stone, tile and cultured marble has; silicone, grout, damageable surface, stains, visible and hard to clean joints, and the need to be sealed. Our choice to fabricate Corian, Staron, and Hi-Macs is deliberate and intentional, ensuring Insolid ® delivers only the highest quality surfaces to our clients, with a lifetime value, beauty and style that are deeper than its surface. Choosing one area of expertise also allows us to be the best at what we do and excel at being at the top of our industry. Insolid ® is also a manufacturer certified fabricator of these brands, which allows us to back our work with the manufacturers 10 or 15 year warranties. This warranty protection against breakage or seam separation is unheard of in the granite or other industries.
We pride ourselves on a long and satisfied customer list. Insolid ® has performed our services to over a thousand clients in Hawaii since 1999. With a little design consultation with the staff at Insolid ®, we can design a countertop, shower pan and walls, tub surrounds, table tops, desks, or commercial products which will perfectly fit any home, office, restaurant, or design layout and architectural need. We fabricate every item locally which allows us complete freedom of size, shape and color. You never need to be limited by "factory set" dimensions; your imagination and desires can guide the creation of your next project. This local fabrication also supports Hawaii's economy.
Please feel free to cruise around this website and look at our photos, colors, and other information. We also have a showroom that has samples of showers, sinks and much more. If you find we have not answer a particular question of yours; please don't hesitate to contact us. We have been in this industry for a long time and can be an abundant source of knowledge, pertaining to every facet of solid surface design. If you would like us to schedule a free "in-home" estimate or an estimate off a blueprint, please contact us or enter your information in the request a free estimate. We will be happy to help and eager to assist you. Thank you for your time and we would like to have an opportunity to service you.